Keep your Lexus Clean
During good times and bad times, we want to be there for you.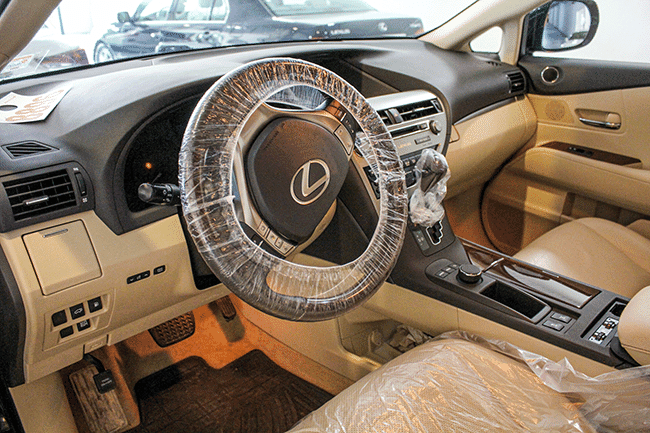 To help prevent the spread of Coronavirus we are working hard to ensure the safety of our customers and employees. We understand that protecting yourself and your family is top priority, that's why we want to help! Although there is plenty of good information regarding general hygiene there's simply not enough people talking about the importance of cleaning your car.
In efforts to help keep our community healthy and safe, we want to explain why it's important to disinfect your car. Your car is often the first thing you touch after leaving a public place. In fact, did you know that your steering wheel has 2x the amount of bacteria than a toilet seat! Washing your hands before and after you drive your car can help reduce the amount of germs you bring into the vehicle.
Cars normally contain many different kinds of surfaces, from leather, plastic, metal and rubber. If an infected person touches any of these surfaces in the vehicle, the virus can live from up to a few hours to several days.
How do I clean my car?
Before you start, we recommend you wear disposable gloves. Next, identify what are those "frequently touched surfaces" in your car. Common vehicle touch points include the steering wheel, door handles, shift lever, buttons, touch screens, wiper and turn signal stalks, passenger and driver door armrest, grab handles, and seat adjusters.
Keep in mind that if your steering wheel is leather material you should avoid using any product with bleach or hydrogen peroxide because you will damage the leather. Instead, use soap and water with a microfiber cloth.
Make sure to be gentle when you're cleaning! Once you've finished cleaning the leather, follow-up with a good leather conditioner.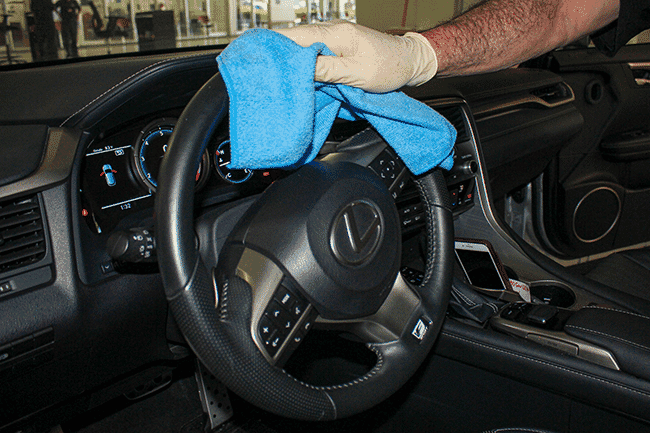 For non-leather, we recommend using alcohol-based wipes which are the quickest way to clean steering wheels, controls, door handles, shift levers and car dashboard. Make sure it contains at least 70 percent alcohol to be effective against COVID-19. Avoid ammonia-based cleaners on car touch screens since they can damage the anti-glare and anti-fingerprint coating.
Cleaning should be done regularly like in your home. We encourage you to always keep sanitizing wipes in your glove compartment to clean those frequently touched areas. Don't forget your hand sanitizer too!
Good hygiene is our best defense against COVID-19 so let's wash our hands before and after we've been in a vehicle.
At Bean Automotive Group, we are committed to the well-being of our customers and employees but handshakes, hugs, besitos and abrazos will have to wait. We have taken and keep taking prevention measures in cleaning all our areas and making sure we are continuously sanitizing our facilities. By being proactive in keeping our workplaces clean and sanitary, we help to prevent any contamination and the spread of the virus. Please call us at 305-KENDALL (305-536-3255) with any questions, or if you require special needs for automotive service. We appreciate your understanding as we continue to serve you in the best way possible.